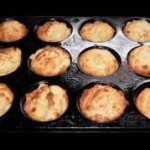 Preparation time: 10 minutes
Preheat oven to 325. Bake for 25 minutes.
4 eggs
2 cups sugar
1 ½ cup oil
2 tsp. Vanilla
3 cups flour
2 tsp. Baking powder
2 tsp. Baking soda
2 tsp. Cinnamon
1 tsp. Salt
2 cups grated carrot
1 cup crushed pineapple with juice
(Optional 1-cup coconut or 1/2-cup nuts)
In a large mixing bowl, combine the eggs and sugar for two minutes on medium speed. Add oil and vanilla and mix for 30 seconds. In a separate bowl, sift together the flour, baking powder, baking soda, cinnamon and salt. With the mixer on low speed, slowly add the dry ingredients. Do not over beat. Stir in the carrot and pineapple with a spatula. Spoon into well-greased muffin tins and bake at 325 for 25 minutes.
Tip: Grease the entire muffin pan so that the Tops of the muffins don't stick when they rise. I also like to use paper-baking cups.