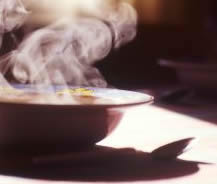 So tomorrow is going to be a busy day (as usual) between work, house chores and the daily delivery and pickup of the kids all their scheduled events. Given that your Mom and Dad will be coming over at 7:00 pm for dinner, here a simple recipe that you can prepare tonight that will be pipping hot and ready to serve when you get home. I like to place some bakery rolls in the oven about 10 minutes to serve with the soup. Warm rolls and soup-I bet they ask for seconds!
Preparation time: 20 minutes (with 2-6 hours in a slow cooker) Serves 10
1 ½ pounds lean ground beef
1 medium onion (chopped fine)
1 28 oz. Can tomatoes
2 cups water
3 cans beef consommé ( I use beef cubes in 3 cups water)
1 can tomato soup
4 carrots (chopped fine)
¼ cut Pot Barley
1 bay leaf
3 sticks celery (chopped fine)
Parsley
½ tsp thyme
Salt and Pepper to taste
Brown meat and onions. Drain well Combine all ingredients in large pot. Simmer covered at least two hours or all day. Freezes well
I brown the meat and onions and put the whole thing in the crock pot for 5 or 6 hours on low.
Enjoy