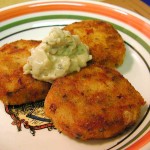 Preparation time: 20 minutes Cooking time: 8 minutes Serves 3-4
1 16 oz package Salt Cod
6-8 medium size potatoes
1 medium onion, diced
½ tsp. Pepper
Peel potatoes and cut in half then place in pot with cold water and bring to a boil until fork tender. Rinse Salt Cod in colander then place in a large pot of cold water and bring to the simmer on medium/high heat (Do not let the fish come to the boil.). The fish should be heated through by the time the potatoes cook. Drain the potatoes and mash. Stir in the chopped onions and the heat of the potatoes will soften them. Drain the Salt Cod, break into small bits then mix with the potatoes and onions. Add pepper. Once the mixture has cooled, form into patties. In a frying pan, heat up oil and place the patties into the hot oil and cook for 3-5 minutes on each side.
Suggestion #1: For a crispier fish cake, you can put a little corn meal on your hands while forming the patties.
Suggestion #2: If after the mixture has cooled and you find it too dry to form into patties, you can add a beaten egg to add more moisture.
Suggestion #3: Goes great with mustard pickles or chow and a tossed leafy salad.